Your Ultimate Guide to Dodge Ram Towing Capacity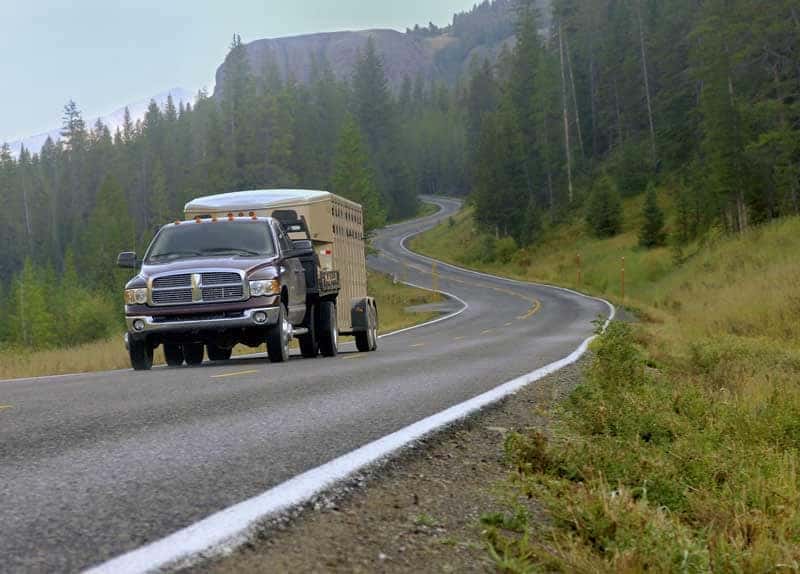 If you're looking for the best towing capacity in a truck, look no further than the Dodge Ram. The Ram is a beast of a truck that can last a lifetime and blow your expectations out of the water.
Join us in learning why the Ram is the best truck on the market for any towing needs you might have. There are plenty of options to find a truck that suits your needs best.
History of the Ram
Before we dig deep into the towing capacity of the Ram 1500 and 2500, let's look into a little bit of history surrounding the brand.
The first generation pickup began production in 1981 with the highly recognizable ram's head hood ornament. The Dodge company offered several different engine options in the truck, most notably the 5.9L Cummins diesel engine starting in 1989. This was a huge turning point for Dodge Ram.
They introduced the Cummins to hit a niche that was available in the market at that time. Ford and GM offered better selling gas-powered trucks, so it was hard for Dodge to compete at first. However, when they partnered with the Cummins brand, the truck sales skyrocketed and Dodge knew they had made the right decision.
The 5.9L Cummins diesel engine was different than any other diesel engine on the market. Unlike Ford and GM, the Cummins was directly injected and turbocharged. This really elevated the public's interest in the Ram, and definitely gave it the push to be the popular truck it is today.
Cummins is a strong engine manufacturer, seen in most every heavy equipment field there is in today's world. Without them, we would have weaker fire trucks, sluggish road equipment, and unreliable generators.
By the fourth generation of Ram, beginning in 2009, Dodge was the only company to offer manual transmissions in their domestic truck line. Ford and GM both discontinued manual transmissions and solely offered automatics. This has been a strong force in keeping the Ram relevant and a top-notch competitor in truck sales.
Towing Capacity
Let's get into the good stuff! We're going to break down the towing capacity between the Ram 1500 and the Ram 2500 to show you the options and abilities of each size of truck.
These are the light and medium duty trucks that Dodge offers. Though they do have larger options as well, these two sizes are the most common and universal in terms of the everyday person's needs.
Ram 1500
According to Ram themselves, the all-new 2019 Dodge Ram 1500 has a towing capacity of up to 12,700 pounds! That is incredible for a light-duty truck powered by a Hemi V8 gas engine. In comparison, the Ford F-150 3.0L Power Stroke Turbo Diesel only has a maximum towing capacity of 11,400 lbs.
The 1500 Ram also has 4 aspects of specialized technology to assist in ease of towing with the highest safety standards in mind. Not only is the truck tougher than ever before, but it's also the safest it's ever been.
Blind Spot Monitoring with Rear Cross Path and New Automatic Trailer Detection offers technology and sensing for the extra blind spots that one might experience while towing a load. The suspension is also a class-exclusive four-point air ride technology that assists in keeping the ride balanced and leveled when towing a load.
You're literally getting the best of both worlds, safety, and comfort with a tough truck that has the abilities you're looking for.
Ram 2500
There are a few different engine options in the Ram 2500 that offer a range of towing capacity.
The first engine, the gas-powered 5.7L Hemi V8, is the most fuel-efficient engine option and has a towing capacity of 13,890 pounds which is over 1,000 pounds higher than the maximum capacity of the Ram 1500.
The second gas-powered engine option is the 6.4L Hemi V8. This engine provides a towing capacity of up to 16,320 pounds. This engine offers 800 ft-lb of torque, which is nuts!
And the final option for the Ram 2500, is an absolute beast; the diesel-powered 6.7L Turbo Diesel I6. This is the best of the best, with a towing capacity of a whopping 17,980 pounds! Any load you might have as a farmer or construction worker, this engine can handle it.
1500 vs. 2500: Which One's For Me?
You've read what each model can handle as far as towing capacity, but which one is the truck for you? You really can't make a bad decision, since both sizes of the truck are absolutely awesome in their own ways. But if you're seriously considering one, determine what your usage will require.
If you're going to use the truck as a daily driver, and only occasionally pull a bass boat, the 1500 will be more than plenty. It will get the job done like a dream, and you won't have any care in the world.
However, if you're going to use the truck as a daily driver hauling cattle, heavy equipment, or solely as a farm truck, you're probably going to need to upgrade to the 2500 for the extra towing capacity.
If you're still unsure which one is best for you and your lifestyle, feel free to reach out to us for some feedback and tips. You can even test drive one of each to get the feel for them both.
We're one of the best lots in Milwaukee, offering new and pre-owned vehicles in pristine condition. Come check out our extensive inventory today!
Hook Up and Haul Off
Whether it's a brand new 2019 Ram or an old 1991 model, you know you can expect the same things; strength, durability, and longevity. These trucks are built to last and exceed any expectations you might have. The Ram is a truck you can trust!
With all of the provided information, we hope you'll decide to come shop with us to get one of these new or used Rams to suit your needs. We keep a large inventory on our property, so we definitely have something for everyone.
The Ram offers superior towing capacity so you're able to hook up to your load and haul off with no worries!