What is Truck camping and how to plan a trip?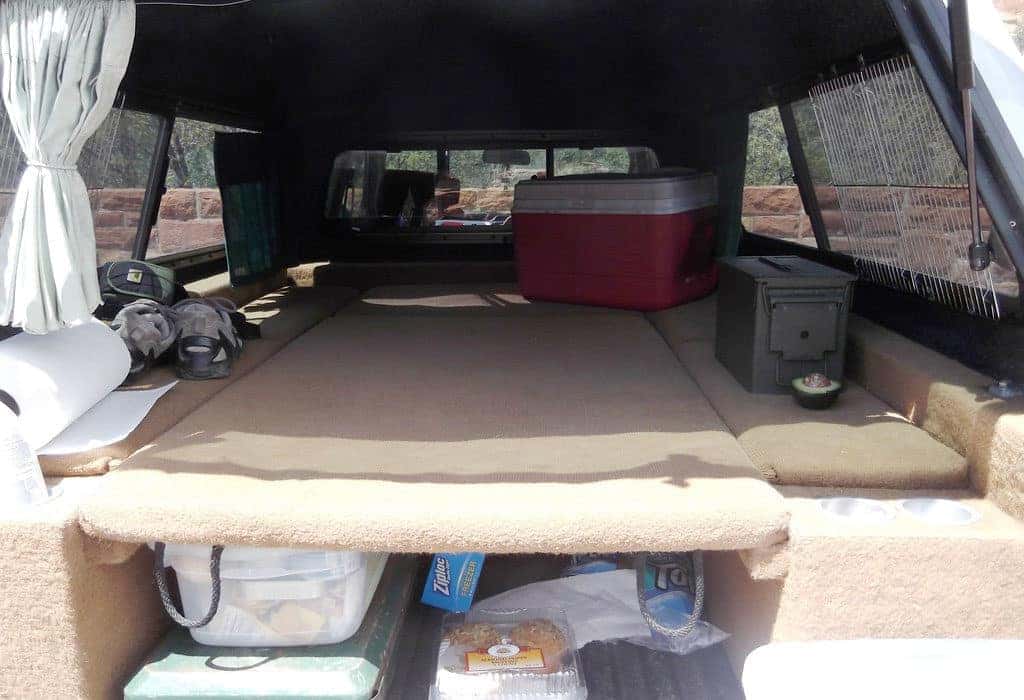 Every time I see one of those mammoth RVs pull into the large state park I live next to, I tend to roll my eyes and wonder why their occupants even bother to leave home. With their unsightly satellite dishes and pop-out rooms (because being as large as a Greyhound bus apparently isn't big enough) there's absolutely nothing about these gas hungry behemoths that captures the true spirit of why we go camping in the first place. Camping is meant to elevate your awareness of nature, fill your lungs with fresh air and teach you a thing or two about living by your wits. If you need all the comforts of home, you should probably stay home. You'll save a fortune on gas!
By dissing the big RVs, I am in no way suggesting that you have to travel light in order to go camping the proper way. Instead, you should try to equip yourself for anything that Mother Nature might throw at you while keeping your environmental footprint as minimal as possible. Which is why camping with a pickup truck makes such good sense.
A truck, especially one with 4-wheel drive capability, is a go-anywhere vehicle that enables you to transport plenty of camping gear and other supplies while offering several different options for putting a roof over your head at the end of the day (or when it rains or snows). Additionally, a medium sized truck can camp in many more places than large bulky RVs, which require water and electrical hookups, as well as sufficient overhead clearance.
When you go truck camping, you can sleep in the cab, in the truck bed, in a tent on the side, in a pull-behind pop-up camper, a truck tent or camper top that fits into the truck bed. Since I often camp where bears are known to come foraging for food, I tend to like having something more solid than a canvas flap between me and them. That said, you should never EVER leave food out. Instead, keep it wrapped in plastic and stowed in air-tight food storage containers to keep the odors from inviting any unwanted dinner guests. Then lock it inside the truck for added safekeeping.
If you plan to sleep more than one person in the truck bed, be sure to measure between the wheel wells—well in advance of leaving home—to make sure there is enough room. Otherwise, you may need to build a sleeping platform above the wells.
Once you decide where to go camping and how you plan to sleep, your next goal is gathering up the gear you will need to take with you. Here again, you need to plan for any eventuality by including any or all of the following items:
Food & water (A good rule of thumb is a gallon of water per person per day).
Garbage bags
Firewood (Check with park ranger or campground host for any regulations)
Bear spray and/or wild animal repellent
Jumper Cables or jumper box (Jumper box is recommended in case a donor car or battery is not around. You can also recharge your phone and other devices using a jumper box.)
First aid kit, as well as any prescription drugs you are required to take. A few extra daily doses are recommended in case you decide to stay longer than planned.
Extra clothes to layer-up in case it suddenly gets cold.
Once you've located your ideal campsite, here's what to do next:
Unpack and set up camp before the sun goes down. If nothing else, get your tent set up before dark. If you arrive after dark, your truck's headlights will come in handy. But take care not to overtax the battery.
If your campsite offers them, locate your bathroom, shower facility, potable water source, trash cans and any food-storage boxes that may be provided.
If you plan to sleep in the bed of the truck, be sure to park on level ground, apply the emergency brake and chock a couple of the wheels.
While procuring the above equipment can easily add up to a small fortune, most of these items are one-time purchases that can be used repeatedly if you plan to make a habit out of truck camping.
It is also important to note that while solitary camping is good for the soul, you should never leave home without letting someone know exactly where you are headed and how long you expect to be gone. Moreover, if you plan to venture deep into the wilderness it is always a good idea to have a map of the area and a compass—in case your electronic devices run out of juice or fail to pick up a signal.
When it comes time to break camp and go home, be sure to leave no trace that you were there. Clean up all trash and make sure that any campfires are fully extinguished. If it is a group campground, be sure to dispose of your trash where directed to do so.