The Best Plymouth and Dodge Muscle Cars of the 1970's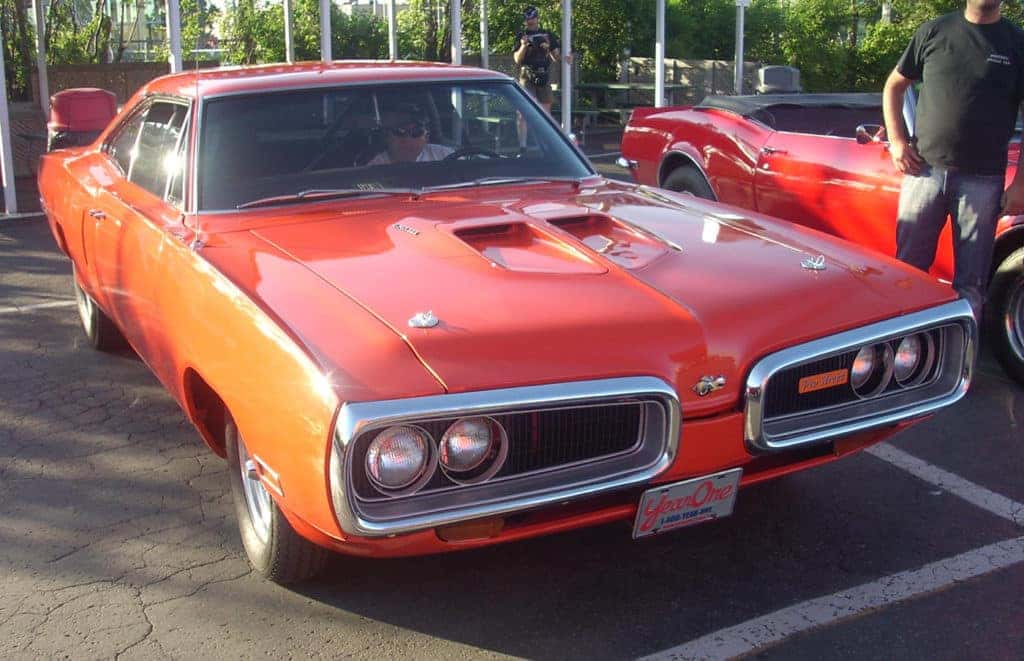 By the time the baby boomers began to come of age in the late 1960s and early 70s, their tribal ethos as it pertained to cars boiled down to a single belief: You are what you drive.
Theirs was an obsessive car culture that took many twists and turns as they transitioned from carefree adolescents into career-focused adults. From pony cars to full-size convertibles, their self-image was often tied to what they drove. Thus, they were primarily interested in two features—speed and style.
Detroit was only too happy to oblige, just as the boomers were obtaining their first driver's licenses and developing automotive preferences that would stick with them for life. First came the original "pony" car, as exemplified by the Ford Mustang, whose debut on April 14, 1964 was splashed across the covers of both Time and Newsweek, and launched the cars creator, Lee Iacocca, to automotive superstardom. Iacocca would go on to famously lead the Chrysler Corporation back to profitability from the brink of insolvency in the 1980s.
In the early '70s came the next generation of muscle cars bearing such memorable names as Plymouth Road Runner and Dodge Super Bee. It would be the last generation of true, no-holds-barred muscle cars before the OPEC oil embargo and the emerging environmental movement sent the industry scrambling in the opposite direction—toward smaller, more fuel-efficient cars with lowered emissions.
With roots that date back to the late 1940's, muscle cars were a natural offshoot of hot rod culture and eventually evolved into a category all their own by the 1950s. The term "muscle car" was used to describe stylish two-door, American sport cars with rear seats and powerful V8 engines distributing power to the rear wheels. Beyond their high performance and bold new designs, the key to their success was their aura of status even as they were priced within reach of the average, middle-class working family.
As time went by, muscle cars became faster and more stylish before peaking in popularity during the late 1960s and early 1970s. For Detroit, it was essentially a race to see which car could deliver the most horsepower from the lightest chassis.
Back in the day, the best Plymouth muscle cars were known to regularly out-muscle Mustangs and Camaros, Ford's primary pony car competitor. Plymouth's most noteworthy muscle cars of the 70s include:
As muscle cars grew in popularity, so did their various trim levels and price tags. In order to get back to basics, Plymouth decided to strip all the frills from its more upscale GTX muscle car model except, of course, its beast of an engine. Voila, the Road Runner—Plymouth's muscle car for the masses.
Fun fact: Plymouth had to pay Warner Brothers $50,000 for the right to use the "Road Runner" name and likeness, which—as everyone of a certain age will remember—belonged to an iconic Looney Tunes cartoon character. Plymouth spend an additional $10,000 to develop a horn for the car that would blast out the character's familiar "beep beep" road runner call.
The Plymouth Superbird and its close cousin, the Dodge Charger Daytona, were essentially souped-up versions of the Road Runner; and for all intents and purposes were as capable as any NASCAR racer. Back then, NASCAR rules stated that cars had to be street legal and available for purchase by the public in order to qualify for the racing circuit. That rule is no longer in effect.
Although the Superbird featured a powerful 7.0-liter engine capable of producing up to 425 horsepower, it is more often remembered for its pointed nose and unusually high rear wing, which people either loved or hated. These aerodynamic design features were said to drastically reduce wind resistance, but rumor had it that the raised rear wing was positioned high in order to allow the trunk to open fully. The rumor was roundly denied.
First built in 1970, the Superbird and the Dodge Charger Daytona (first produced in 1969) were each built for one model year only. Indeed, fewer than 2,000 Superbirds were produced in total, and many sat collecting dust on dealer lots well into 1972 because many customers were put off by that same aerodynamic design. Today, if you could find one, you would probably pay six-figures for the rare privilege of owning a Superbird.
Plymouth Barracuda & Plymouth 'Cuda
Introduced on April 1, 1964, a mere two weeks before the Ford Mustang made its much-ballyhooed debut, the Barracuda is widely considered the first official pony car. A decade or so later, however, the third generation Plymouth Barracuda helped make Chrysler the dominant player of the 70s muscle car era. Produced between 1970 and 1974—its speed and style elevated the car to muscle car status and helped the company ring out the golden age of automotive horsepower with a flourish.
While many people assumed 'Cuda was simply short for Barracuda, this was not the case. While the two cars are certainly related with a similar sleek look, Plymouth introduced the 'Cuda as a specialized version of the Barracuda, with a powerhouse Hemi 426 ci V8 under the hood.
As it turns out, the difference between the two cars can be detected without even looking under the hood. All Barracuda VINs (Vehicle Identification Numbers) start with the initials "BH," while 'Cuda VINs start with the initials "BS." "B" stands for "Barracuda," while "H" is for "High" and "S" for "Special."
While officially rated at 426 horsepower, the "Cuda had an actual output of 500-plus hp. Plymouth sweetened the deal with the addition of a convertible option, of which only 11 cars were ever made.
Fun fact: In May 2021, a 1971 Plymouth Hemi 'Cuda Convertible in mint condition achieved a bid at auction of $4.8 million, but ultimately went unsold because the bid didn't meet the seller's required reserve price of $6.5 million.
Inspired by sales of the Road Runner, Dodge introduced the Super Bee, a mid-sized muscle car produced from 1968 through 1971. The "Bee' in its name was a reference to the "B" Body design used on several of Chrysler's mid-sized cars, including the Road Runner and Dodge Charger.
When it debuted in 1968, the Super Bee had a base price of around $3,000, which was slightly higher than the Road Runner's sticker price, even though both cars shared the same basic chassis and engines.
The Super Bee came standard with an eight-cylinder engine that produced 335 hp. An optional Hemi produced 426 hp but added $1,000 (or a third more) to the sticker price. In order to mitigate the cost, the car came with minimal amenities.
A redesign in 1970 that offered more design and performance options drew disappointing sales. But by now, sales of muscle cars across the board were beginning to sag. One reason for the declining sales was the insurance industry, which had finally caught up with the muscle car craze and added significant premiums to new policies covering these high-performance cars. Steeply rising gas prices didn't help either.
With gas prices rising sharply and tough new federal and state emissions standards beginning to kick-in as early as 1967, it was only a matter of time before manufacturing muscle cars would no longer make sense to Detroit.
But Dodge discovered a loophole in the fact that medium-duty pickup trucks were not held to the same high emission standards as cars.
Thus in 1978, the automaker introduced the Lil' Red Express, hoping to persuade those who missed their muscle car moment that a pick-up truck painted bright red featuring lots of chrome, an oak slab running the length of its cargo bed, and a powerful V8 under the hood could turn just as many heads! From that moment on, trucks were no longer just for work anymore.
The Lil' Red Express was a limited-edition that lasted for two years only. 2,188 units were produced in 1978, and another 5,118 in 1979. They sold for just over $7,400. Today, most sell for between $20 and $30k, depending on their condition.