Introducing the 2019 Multifunction Ram Tailgate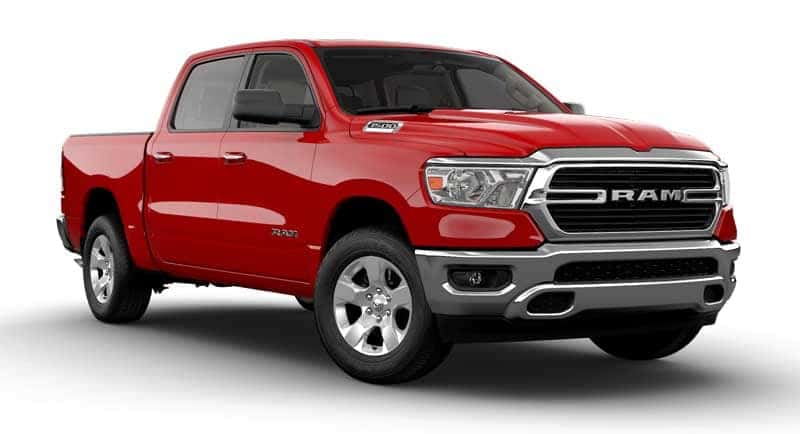 The Ram 1500 series is ranked among the top three best selling full-size pickups in America. And this year, Ram is giving us another reason for why it deserves to be in that position.
In the second quarter of 2019, Dodge will be introducing to the market its Multifunction Ram Tailgate. This tailgate will include one-of-a-kind features such as its innovative 60/40 horizontal split doors and a retractable, center-mounted bed-step.
There is a lot to love about this tailgate. Read on, and we'll walk you through everything you need to know about the brand new Ram tailgate.
60/40 Split Doors
The 60/40 horizontal split doors are an incredibly impressive and useful function. They are perhaps the new tailgate's most defining feature.
So what are they exactly? The Ram Multifunctional Tailgate is split into two asymmetrical hinged 60/40 doors. These doors can swing away separately barn doors-style so when you open up the right door, you can leave the left one closed and vice versa.
Each door can be individually opened up to an incredibly wide 88 degrees.
A sideways swinging door is not a new concept for pickup trucks. Honda's second-generation Ridgeline sported one in 2017.
The difference is that the Ridgeline's tailgate door did not split. So the whole door swung out to the left. That door, like the ones on the new Ram tailgate, could also drop down the standard way.
Benefits of 60/40 Doors
This innovative design brings a lot of advantages to a variety of situations. When the doors open, they now take up significantly less space because they are cut 60/40 instead of just the full door swinging out. With a full door, you might not always have the necessary space behind your truck to swing out the tailgate door.
Plus, it is sectional so you only need to open one of the doors if you want to. For example, if your tailgate is holding an item that is especially long and narrow, you would only need to open one of the doors so it can extend out the back while being able to keep the other door closed.
And there is a good reason for the tailgate's asymmetrical split instead of a 50/50 cut. Having one side shorter than the other means that you have more variety for you how you want to load your truck and can be more specific about where you place different items.
The setup of this new bed will make it easier to load in items right from the curb. It will also make it easier to load heavy items via forklift.
The design of the doors will also mean a less frustrating time spent on washing out the bed.
Unlike the majority of tailgates out on the market today, this one has four possible open positions. These positions include left door open, right door open, both doors open, and both doors down.
Retractable Step
The new Ram tailgate also features an optional, retractable step. This kick-out step is located beneath the rear bumper.
This is useful for when those barn doors are open and you need to step up into the center of your bed.
Weight Rating
This tailgate can hold up to 2,000 pounds of cargo. So it doesn't lose any holding capacity and thus can function like any standard tailgate.
Compare that to GMC's new MultiPro tailgate which has a maximum hold capacity of only 375 pounds!
In fact, in a head-to-head tailgate competition between the Dodge Ram Multifunction Tailgate and the GMC MultiPro Tailgate, auto news magazine TopSpeed crowned Ram the winner.
Although GMC's tailgate has 6 functions compared to Ram's 4, TopSpeed claimed that GMC's complicated setup "could be cause for a lot of headaches." Especially for those who aren't the patient type.
Another great aspect of this tailgate is that it can be opened even when a hitch and trailer are attached.
Rambox Cargo Management System
The Rambox Cargo Management System is a toolbox that is built into the side of the rails of your bed. This sturdy toolbox can also be locked for additional security.
This provides drivers with an extra place to store their tools yet it still remains out of the way. It also uses a remote system so you can lock it simply by pressing a button on your keys. The Rambox Cargo Management System is also weatherproof.
Also, its drainable and illuminated storage bins come with 400-watt, 115-volt outlets.
Price and Availability
According to Ram, the new tailgate will be available for all 7 trims of the 1500. This stands in stark comparison to the competing GMC Sierra which only offers its new tailgate to its top trim levels.
A spray-in bed liner is included with the new tailgate. This ordinarily costs extra.
In the United States, adding this new tailgate to your truck will cost you $995. The optional bed-step can be purchased for $295.
Should You Get the New Ram Tailgate?
Not everyone with a pickup necessarily needs a new tailgate. But if you intend to get the most use out of your Ram 1500, adding the new Ram tailgate will definitely help make things a lot easier for you.
After looking at its reasonable price, versatile 60/40 horizontal split doors, and sturdy weight rating, it becomes clear that if you are going to get a multifunctional tailgate then there is no better choice than Ram's Multifunctional Tailgate.
Decided that you want the new Ram tailgate but not sure which truck to get? Contact us today to learn more!