Dodge Announces Most Powerful SRT Hellcat Lineup Ever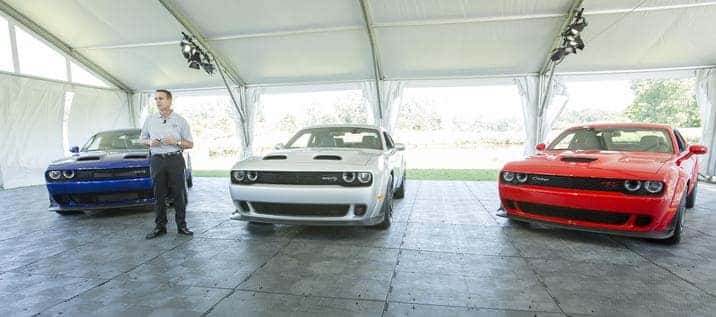 Dodge Announces Most Powerful SRT Hellcat Lineup Ever! For the 2019 Challenger Lineup, Dodge has announced the new 2019 Dodge Challenger SRT Hellcat Redeye, the most powerful, quickest and fastest muscle car that gets an impressive 797 horsepower and 707 lb.-ft. of torque. The Hemi Demon V-8 powered Redeye goes 0-60 in 3.4 seconds with a top speed of 203 mph. If that's a little too much speed, the SRT Hellcat offer 717 horsepower and 656 lb.-ft. of torque. Dodge will also offer the Widebody Package on the Challenger R/T Scat Pack model, which adds 3.5 inches to the overall width, improving handling and braking.
"With 840 horsepower, a 9.65 quarter-mile time and Guinness World Record certification that it's the first production car to lift the wheels at launch, the Dodge Challenger SRT Demon earned its place in the record books," said Steve Beahm – Head of Passenger Cars, Dodge//SRT, Chrysler and FIAT, FCA North America. "The Dodge Brothers would be proud that we're leveraging the power and performance of this proven engine to bring a Demon-possessed Challenger SRT Hellcat Redeye to an even wider high-performance enthusiast audience."
Compared with the standard SRT Hellcat engine, the Redeye's supercharged high-output engine features:
Largest factory supercharger of any production car – 2.7 liters versus 2.4 liters
Increased boost pressure: 14.5 psi versus 11.6 psi
Higher rpm limit: 6,500 rpm versus 6,200 rpm
Fuel: Two dual-stage fuel pumps versus one

At full throttle, the Dodge Challenger SRT Hellcat Redeye's high-output engine consumes 1.43 gal/min (5.4 liters/min) of fuel – enough to drain the fuel tank in just under 11 minutes, yet is still rated at 22 miles per gallon (mpg) when driven in normal highway conditions

Larger induction air box with three sources of intake air:

New dual-snorkel hood
Driver-side Air Catcher headlamp
Inlet near the wheel liner
| | | |
| --- | --- | --- |
| Challenger SRT Models | 1/4-mile elapsed time/speed | Top Speed |
| Redeye Widebody | 10.8 seconds @ 131 mph | 203 mph |
| Hellcat Widebody | 10.9 seconds @ 127 mph | 195 mph |
| Redeye | 11.1 seconds @ 131 mph | 203 mph |
| Hellcat | 11.2 seconds @ 125 mph | 199 mph |
"We designed the SRT Hellcat Challenger's new dual-snorkel hood to focus on another key historical Mopar design element and pay homage to our past with a modern interpretation that looks even more sinister," said Mark Trostle – Head of Performance, Passenger and Utility Vehicle Exterior Design, FCA US LLC. "Whenever we design a new exterior element, we work hand-in-hand with the SRT engineering team to ensure that everything we create resonates with SRT DNA, is functional and meets their performance goals." Learn more in the video below.