Become a Jeep Family: The 4 Best Jeep Models for Families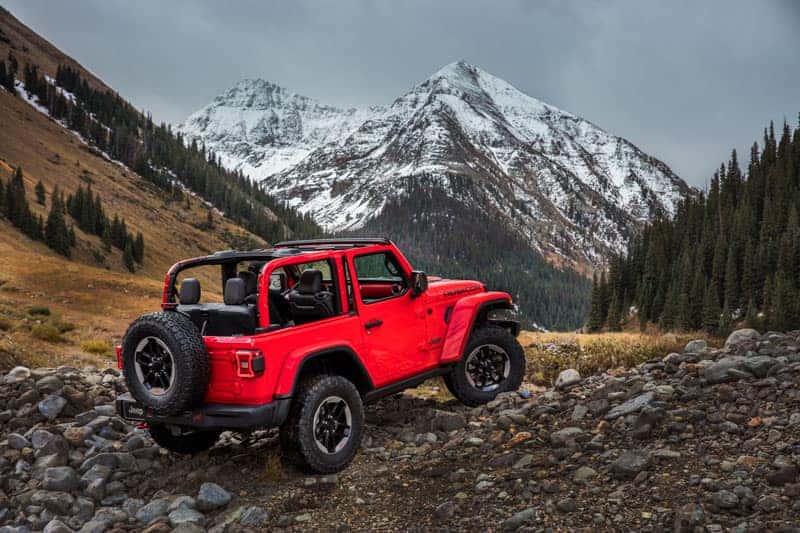 Ever since the first Willy rolled off
the line in 1940
, the Jeep brand has been a symbol of adventure for Americans. While the first models were for military-use only, it wasn't long before passenger versions hit the market. Today, the line's vehicles still mimic the look of the classic originals, only packed with modern features under the hood, in the cab, and on the exterior. From Wranglers to Cherokees, Jeeps are a popular choice for busy professionals, adventurous Millennials, and more. But while they may for great vehicles for adventurous young people, they also make for perfect family vehicles. With plenty of room for the whole family, the ability to carry outdoor gear, and the dependability you need, they're an excellent choice for any family.Move over mini-vans; keep reading to learn the 4 best Jeep models for families.
2019 Wrangler Pickup
One of the most anticipated new vehicle releases of the year, the 2019 Jeep Wrangler Pickup is the line's first true venture away from the crossover/SUV category in a long time.
This new model isn't available quite yet but should be making its way to dealerships around April.
For families enthusiastic about all things outdoor-adventure, this vehicle is the perfect tool for getting you anywhere you need to go.
It offers the famous removable top of a Wrangler, but with the bed of a small pickup. That way, you can still carry all of the gear you need for a camping trip, grill out, mountain-biking adventure, or even a vacation, but still, enjoy the open-air experience once you get there.
Most of the new Wrangler Pickup's spec hasn't been announced yet. In fact, even the name remains a mystery at this time. But what we do know is that it's going to offer a whole new Jeep experience for adventurous owners.
Just like the classic model, with the right equipment, this new Wrangler will take you and your family wherever you need to go.
2019 Wrangler JL
If you're looking for something a little more classic than the new Wrangler Pickup, then the 2019 Wrangler JL might be just the ride for you.
Perhaps the best Jeep Wrangler to ever come out of the iconic line, the successor of the extremely popular Jeep Wrangler CJ features tons of upgrades and features your whole family will love.
To start, a newly designed grill and lighting give the throw-back style a modern refresh.
Under the hood, a revised engine lineup, including a diesel option, gives buyers more options to build a model that works best for them.
Inside, you'll find touchscreen controls, Apple CarPlay, Android Auto, an 8-speaker audio system, and built-in navigation to keep your family entertained and pointed in the right direction.
Plus, advanced safety features like blind-spot monitoring with rear cross-traffic alert help you keep your family safe while on the road.
If you already know that you'll be enjoying plenty of top-down action, you can also add the fully-electronic retractable canvas roof so you won't have to deal with adding and removing the roof panels.
Last year, Jeep sold a record number of Wranglers. But with all of these new features, 2019 might just see even more records broken.
2019 Jeep Cherokee
While a Jeep Wrangler is fun for outdoor adventures, for families looking for more daily function, space, and room for cargo, a Cherokee might be the better choice.
When it first debuted, the new Jeep Cherokee stood out for the many changes it had compared to its predecessors. But the fifth generation Cherokee stood out because it was built to be a true crossover, rather than an old-school SUV.
Now, the Cherokee is seeing even more changes in 2019. A newly designed front, grill, and headlights give it a sleek, sporty look. Choose from a V6 or turbocharged engine. You can also opt for the Trailhawk edition for off-road capabilities.
An oversized touch screen lets you access a variety of applications, including the built-in navigation system.
The 2019 Jeep Cherokee is at home at soccer practice, family road trips, and off-the-grid adventures alike.
Plus, the lower base-model price point makes this a more affordable option for new Jeep families on a budget. You still get the features, durability, and dependability of a sports Jeep, but without the higher price tag of a Wrangler or other options.
2019 Jeep Renegade
The smallest of the Jeep line, the Jeep Renegade is a fun, functional vehicle that's perfect for those who want a few of the features of a Jeep, but the flexibility of a smaller, more affordable SUV.
In this new model, the boxier previous versions got a refresh with a reshaped fascias and new headlights.
The Jeep Renegade offers several customized models, including the Sport, Latitude, and Trailhawk.
You'll still get the interior features of other Jeeps, including a large touchscreen display, built-in navigation, Uconnect and a Bluetooth radio to keep passengers of any age entertained.
The Renegade's many color options also give you the chance to make it a bright, fun family car you'll love to drive.
Choosing the Best Jeep for Your Family
With so many options out there, choosing the best Jeep for your family can be tough. Luckily, any of the models on this list are a great choice.
If your family wants the fun of a Wrangler with the function of a pickup truck, the new Wrangler Pickup is a great choice. Of course, you can't go wrong with a classic Wrangler, especially since modern 4-door models offer plenty of trunk space, making it much more than just a fun car to drive.
For those who want a vehicle that's as at home on your morning commute as a mountain adventure, the new Jeep Cherokee or Renegades are also good options.
Whether you've already chosen the right model for you or are still looking for that perfect fit, we can help. Check out our online selection of new and used Jeeps or stop by the dealership today to find the right option for your family!